Add products by adding codes
Enter the product codes that you want to add to the basket in bulk (after a comma, with a space or from a new line). Repeating the code many times will add this item as many times as it appears.
Orders
How to reserve products?
Placing an order occurs when you click the order button with an obligation to pay. Placing an order means making a reservation for the products. You can reserve products for a maximum of 10 days. After this period unpaid orders (bookings) will be removed, but prior to that we will certainly contact you. To reserve products simply place your order by selecting the option to pay later.
Important! We recommend paying for the order once no other changes have to be made.
How to edit an order that has not been processed yet?
Order editing by client
To avoid mistakes, it is necessary that each client edit the already placed order, so that we are sure that we are sending the right products. You can edit your order by logging into your account on Sentiell website and by clicking on "orders" -> "current", and then "edit order". When you click "edit order", the system does not receive clear information about what will be edited. That is why the client is turned back to the first step of the shopping cart with the list of goods. You have to go through the whole process step-by-step, to ultimately confirm all changes that have been made, by pressing the button change order.
Before you edit the order, make sure that another person which has access to your account is not logged in at the same time on another device, because such a situation will create quite a mess. Remember that the editing has to be made during one web browsing session. Shutting down the browser during order editing may cause a loss of entered changes. In this case the primordial order will not change, and all products added during the editing session will be saved as a completely new order, which will be visible in the shopping cart right after logging into your account, until the new order will be placed.
Save your basket
Before you click on "edit order" button, make sure, that your basket do not contain the products which you do not want to lose. Once you start an edit session, the products from the cart will be removed and replaced with the products from edited order. If you want to save products from your basket, add them to your favorites. DIY: select all products in the basket -> click on "add products to favorites" button. Saved products can be found in "Your account" -> "Products" -> "Favorites", or simply by clicking the button "favorites", which is placed below the basket icon.
ATTENTION! If you have entered a discount code which lowers the order value, the order editing won't remove the applied discount code from the order. If you notice that your discount code is inactive, please contact Sentiell's staff, by sending us an email including this code. If you encounter any difficulties during the order editing, you can also contact us describing the changes to be made.
Editing through the Customer Service Department
All changes that you want to make should be sent to us. In your message, please, include the order number, the product ID, size (if necessary) and determine the quantity that you want us to add or remove. Making any changes to the order always reschedule the delivery for the following day. If you have added some products to your order, we require making payment using fast electronic payment methods.
When can I edit the order?
The best way is to do it in the basket, no later than your order status changes to [in process]. Due to automation of the complex orders processing and double verification, which we use for each order, editing orders with the status [in process] status or [ready to be sent] makes quite a stir in orders realization. We respect your decisions regarding changes but keep in mind that the time we spent for you to carefully prepare the order has already been used, and other orders are waiting to be processed within 24 hours. Therefore, if you want us to edit the order, you have to take into account that it can delay the delivery at least 24-48 hours..
Important! If the order has been paid for, it is a signal for us that your order can be processed. If you want to have the option of adding a few products later, we recommend clicking "pay later" when you are placing your order.
Order editing [in process] or [ready for dispatch].
The client does not have access to edit orders with the [in process] or [ready to be received] status. Your email request to suspend the order may be delayed and so it is necessary to make a call urgently. If there is a possibility to suspend or edit your order, we will ask you to email us details of those changes, i.e. products IDs, their sizes (if necessary) and the amount which you want us to add or remove.
We request this information about changes (sending via email) because we want to avoid possible claims from client. This gives us the certainty that we act in accordance with client guidelines. Our customer service will introduce specific changes within 24h, and will inform you about the payment you will be required to make or about the amount of refund in your client account balance. Next, the order is forwarded to be processed after the payment of the missing amount.
Important! Please bear in mind that it is not always possible to edit orders that are already ready to be sent. So, before you pay for your purchase, analyse your needs well.
How to cancel an order?
If the order is not paid all you have to do is log into your account in the wholesale and cancel the order. If the order is paid or it is being processed, then it is necessary to contact us immediately. The booked amount for the cancelled order will be transferred into the balance in the wholesale for future purchases.
Can I merge several orders?
Unfortunately, it is impossible to merge orders by yourself from your account. You can send us an email with request to merge orders, or ask us for it while placing one of your orders, adding a note to the order. The note should specify the numbers of the orders to be combined. It is important to do this before paying for them and before they are processed. If you assume that the second order is to be combined with the first, then during the selection of type of delivery for the second order, select [personal reception]. So that the system will not charge additional delivery costs.
Important! Remember that merging orders means shipping only to one address that you have provided when placing an order, and the system will not automatically calculate a threshold discount nor include free delivery for combined orders, even if the combined orders meet the conditions for obtaining those benefits.
Merging several orders placed at different times may involve the occurrence of different prices for the same product on the invoice. This is due to a variable exchange rate or differences in the prices of supplies. If you want to avoid this, every time you need more products, edit the previously placed order.
When can I buy with the 0% VAT?
Every client of the wholesale after the purchase receives a VAT invoice for the ordered products. This invoice is generated in the system during the order processing.
The VAT invoice always comes to the client along with the ordered goods in the package. You can pre-download it as a .pdf after logging into your wholesaler account.
The VAT invoice can be calculated on the basis of the net or gross value. Clients from the European Union may pay the net price if they are the VAT payers in their country. It is necessary to enter the VIES number during registration. The VIES number consists of letters identifying the country of origin of the company and of a various combination of digits and letters making up the registration number. If you do not have a VIES number, and you are a VAT payer, please report to the office in which your company is registered and ask them to assign a number.
We check the VAT number every time we issue a net invoice to make sure that you are still are entitled to a 0% VAT.
If the client's company provide us with an active VIES number, but is willing to deliver and sell purchased products on the territory of Poland is obliged to pay 23% VAT, according to art.22. par.1 pt. 3. of Polish Law, regarding taxes on goods and services.
If the client's company registered in a country belonging to the European Union, is not registered as a VAT payer, then the client always has to pay a 23% gross price binding in Poland. If after registration on our wholesale store website, your Vies number has been activated, please inform us immediately.
Clients whose companies are registered outside the European Union, always have to pay the net price, regardless of whether they are or not tax payers. Purchases do not include the cost of customs clearance. The client will be charged while receiving the parcel in the country of destination. Customs clearance fee for jewellery is individual for each country. To find out what is its cost, contact the competent customs office. More about the customs clearance.
When is the customs duty applicable? [soon]
I own several shops. Can my workers use my account to place orders separately? [soon]
I want to end up ordering process later. Will my basket be saved?
We care about peace of your mind and assurance of making the right choices. Thanks to our system, placing orders and making purchases can be spreaded over time. You can stop collecting goods in the basket and continue any time. The system remembers your choice and allows you to complete the order in the future, regardless of the device on which you log in to your account. We also encourage you to add products collected in basket to the favorites. Go to your cart, select products, then click on the icon [Add products to favorites]. Saved products can be found in Your account-> PRODUCTS-> Favorites.

Below you can see how simple it is.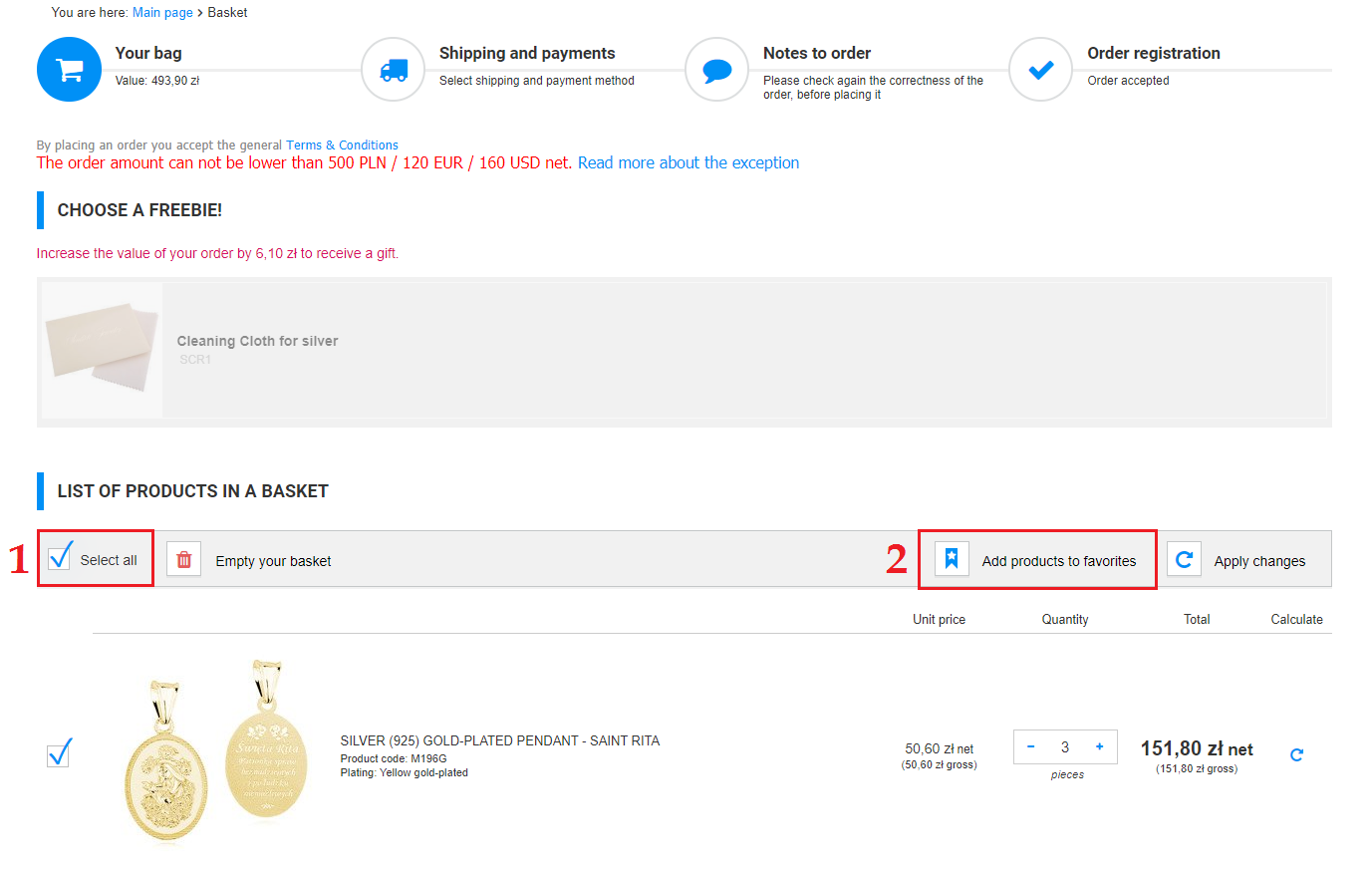 Can I receive a certificate of authenticity for purchased products?
Yes. Contact us directly and request such a certificate indicating order number. We will issue the document as soon as possible, and we will inform you that you can download it from order summary. On this certificate you will find a statement that the jewelry has been crafted using pure 925 silver and a record that it is issued for your company.
How to upload an order from a .csv file to the basket?
Go to basket and click [Add products by adding codes] button. This function allows you to add a list of needed products with just one click.
Do not worry if you already have some products in your basket. You can use the [Add products by adding codes] function and enter the missing items.
The key issue is preparing a proper products' list. You can create it in a CSV file or according to the following instructions.
To create the list, you will need our ProductIDs and UnitOfMeasureIDs. You will find them for each item in the order summary and on product tags.
In the future, you can also use our ID Size Chart.
Then enter the semicolon and quantity that you would like to buy. The identifiers prepared in this way have to be separated by space, coma, or newline.
EXAMPLE: That's the way the entry should look like if you want to add to your basket: 32 pieces of Z1070A_B (size EU-8), 10 pieces of Z1587A (size EU-18), 7 pieces of Z1573A (size EU-9) and 8 pieces of Z1554A (size EU-11).
Once your list is ready, click a button [Add products by adding codes]. You will find it by going to the first step of your basket. This option is also available if you would like to add further items to the shopping cart.
The products that you have managed to upload to your cart successfully will have a gray background.
If our system doesn't recognize some entries, you will receive feedback to review a list with incorrect codes.