Add products by adding codes
Enter the product codes that you want to add to the basket in bulk (after a comma, with a space or from a new line). Repeating the code many times will add this item as many times as it appears.
2022-03-01
NEW FEATURES IN WHOLESALE – SHOPPING LIST AND THE FASTEST PAYMENT METHOD
At the beginning of 2022 we proudly present new features in our wholesale. We put in your hands our redesigned website that was targeted at mobile devices, and it has been optimized for higher efficiency. This time we focused on a shopping list that will help you organize and control your stock, and we will briefly describe the fastest payment method "One click".
SHOPPING LIST VS. FAVORITES
As the favorite products list won't be available anymore because it is not supported by the newest template, we replaced it by the SHOPPING LIST.
You still will be able to add a product to basket directly from the shopping list, and you won't have to go on to the product page.
Choose "Bulk edit" function that allows you to move, remove, copy products to another lists or add selected to basket.
The up-to-date information about the quantity of added products to your basket is displayed in this place.
You can create up to 15 shopping lists and sort products out according to your needs. You can manage your list anytime you want. Remove, create new ones and rename them.
Each list has its individual link that you can share in two ways.
Save all products from your basket in the shopping lists or if an item catches your eye, add it to the list directly from the product page. ;)
It is also worth mentioning that you will find all products that you have already bought on a special LIST OF PURCHASED PRODUCTS. The list is easily accessible from section "Your account" or from the page of shopping lists. You can sort the products from that list by date of last purchase.
THE FASTEST PAYMENT METHOD – IT TAKES ONLY ONE CLICK!
For your convenience, we have provided you with a payment method that will save your time. You can pay your order with a credit card on your computer as well as on your mobile devices:
- Google Pay for credit cards synchronized with Android and Google Chrome devices.
- Apple Pay for credit cards synchronized with iOS devices.
We encourage you to use save online payments with credit cards and to take advantage of deferred payment deadline up to 60 days. Check other payments methods that we offer.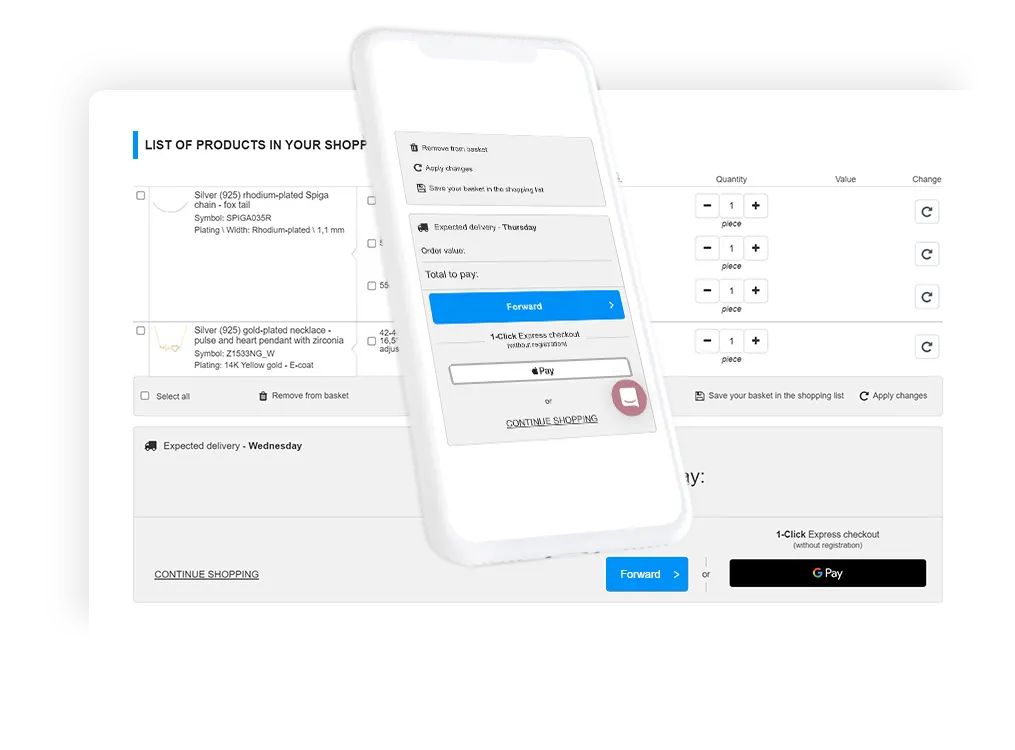 We would like to continue developing our wholesale website and creating new features. We invite you to familiarize yourself with the functioning of shopping lists and if you have any ideas or suggestions to help us improve it, please, contact us.